Creating your vision board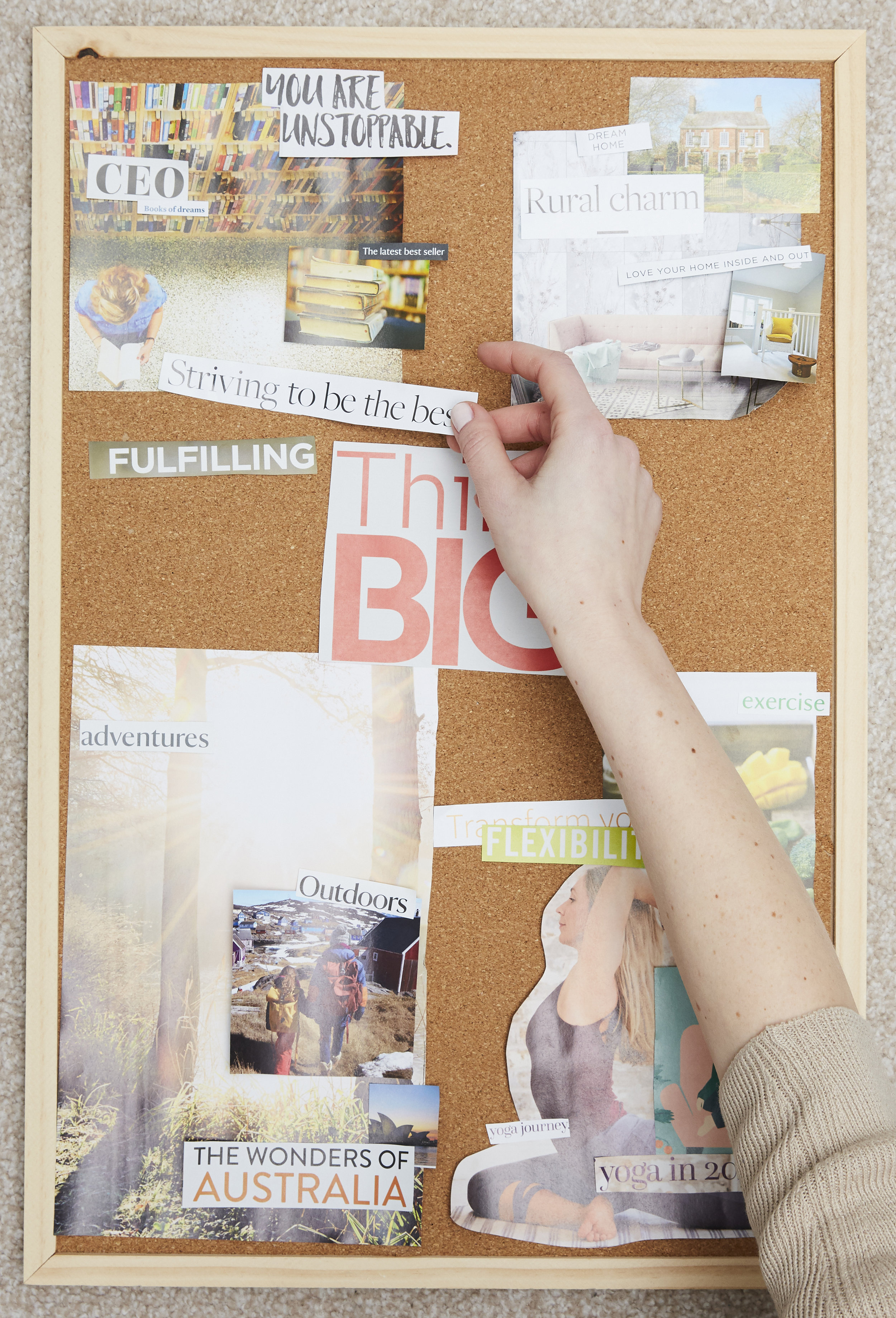 A fundamental tool endorsed by some of the world's most successful individuals, Vision Boards are becoming increasingly popular thanks to their incredible results. A typical Vision Board consists of powerful words and images inspired by our aspirations, often pinned onto a corkboard. They're fun to make, easy to use, and a great way to keep the mind focused on our goals. Here's how they work…
THOUGHTS BECOME THINGS
Quite simply, what we think about, we bring about. So why not think about and visualise all the great things we want to achieve? Vision Boards help fine-tune our perception, and to become more aware of opportunities that may have once gone unnoticed. They're also a great reminder to take positive action everyday.
GET CREATIVE
Follow the visual guide with step-by-step images here.
1. Start by reviewing your goals, and imagining how your life will look and feel once you've attained them.
2. Next, flick through some magazines and cut out anything that relates to your ideal experience. Anything goes – find inspiration in words, colours, images and phrases.
3. Finally, arrange the cut-outs across your Board and tack everything down. Extra credit for decorative additions.
VISUALISE TO MATERIALISE
Place your finished masterpiece somewhere you'll see it everyday (by your bed or next to a mirror is perfect), and let the images and words prompt you to visualise yourself having completed your goal.
If you aspire to run a marathon, you might pin an image of a medal. Looking at your Board, you can visualise yourself finishing the race and all the emotions that go with it. Pride, relief, elation. Imagine how you'd celebrate. Experience all the feelings as if you've achieved your goal.
As we bring awareness to how we'll feel, we start seeing more opportunities to make these experiences a reality, leading us to accomplish our goals. It's a happy cycle of feeling good, sharpening our perception, and receiving what we feel.
Have fun, and happy Vision Boarding.